EagleFiler 1.8.4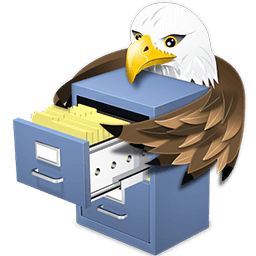 EagleFiler - Программа, позволяющая собирать, организовывать и архивировать почту, веб-страницы, текстовые документы, изображения, PDF другие файлы из различных источников. Все файлы можно организовывать по папкам, добавлять к ним комментарии и заметки, прописывать тэги. А для безопасности всю эту библиотеку файлов можно зашифровать.
EagleFiler позволяет создавать, проматривать и редактировать документы встроенными средствами, или с помощью сторонних утилит. Работает с: Dropbox, Finder Tags, Fujitsu ScanSnap, Growl, Instapaper, iPhone/iPad, MailTags, OpenMeta, PDFpen OCR, Skim и др. EagleFiler - это наиболее гибкий инструмент на вашем компьютере.
Что нового:
Version 1.8.4:
macOS 10.14 has new data protection features that require the user to specifically grant applications such as EagleFiler access to do certain things. In general, you will want to grant EagleFiler Full Disk Access as well as Automation access for Finder, Mail, Safari, and other applications that you want to capture from. This is further explained in the Security & Privacy Access section of the manual.
Added support for Dark Mode on macOS 10.14. The viewer for plain text files (and plain text e-mails) switches colors for dark mode, whereas RTF files and HTML e-mails do not because they may override the background color in ways that are hard to read with the dark color scheme.
The capture key now works with Apple Mail on macOS 10.14.
EagleFiler is able to import more Web pages successfully because it now ignores timeouts and certificate errors when loading subsidiary resources. Previously, a broken ad or tracker would cause importing to fail. Now, EagleFiler makes a best effort (like a Web browser) so that importing can succeed so long as the main page content loads without error.
If you open an RTF file in TextEdit and add an image, TextEdit will convert it to RTFD format. When you view the file again in EagleFiler, EagleFiler will now detect this renaming instead of reporting the file as missing.
Importing URLs in bookmark format is much faster.
Bulk tagging operations from the Batch Change and Info windows and from the tags bar and tag sources are much faster.
The capture key now works with the Vivaldi Web browser.
Compiled AppleScript files are no longer imported as plain text files; instead, EagleFiler displays them as read-only, syntax-highlighted source code.
EagleFiler now waits a bit longer after you open a library before starting the background operations, to improve responsiveness.
The Import Bookmarks… command now skips over items in the bookmarks file with missing URLs, rather than failing with an error.
Made various user interface refinements and fixes for compatibility with macOS 10.14.
The Export CSV script now uses UTF-8, so it should work with metadata that uses any characters.
Updated the following sections of the manual:
Added the WebToolRTFDomains esoteric preference, as described in Importing Web Pages and URLs. This can help with importing from sites such as Twitter that don't print properly.
Added DisplayImagesWithQuickLook to the esoteric preferences for improved privacy control.
EagleFiler will now log a more informative error if it can't access the Spotlight comments due to not having Finder Automation access on macOS 10.14.
Worked around a bug in macOS 10.14 that prevented the open libraries from being remembered.
Worked around a bug in macOS 10.14 that prevented saving bookmark files.
Worked around a change in macOS 10.14 that could cause a library to open with some of the source list items inappropriately collapsed.
Worked around a bug in macOS 10.14 that prevented the selected source list item from being properly indicated.
Worked around a macOS 10.13 bug that could prevent keyboard input after closing the Help menu.
Worked around a macOS 10.13 bug that would cause a crash when indexing Excel or PowerPoint documents.
Worked around a SearchKit bug that could cause files not to be indexed.
Worked around a macOS 10.13 bug that could cause an internal error when locating EagleFiler's data files.
Removed the Open in Delicious command.
Updated to version 1.3.12 of the SkimNotes framework.
Fixed a bug where the capture sound didn't play on macOS 10.13 or later.
Fixed a bug where Scapple files would display as XML instead of showing a preview of the document.
Fixed a bug where Option-double-clicking a large selection of records (such that confirmation was required) would open them in the external viewer instead of opening their source URLs.
Fixed a bug where toggling text view options (such as spell checking) from the Info inspector's contextual menu didn't work.
Fixed a bug creating bookmark files from certain URLs.
Fixed a bug where some content in HTML e-mail messages might not be indexed for searching.
Fixed a bug where EagleFiler could report an internal error when asked to import a file that was already in the library folder but which had not yet been fully imported.
Снимки экрана:
Версия:

EagleFiler 1.8.4

Разработчик:

C-Command Software, LLC.

Системные требования:

OS X 10.7 или более поздняя версия, 64-разрядный процессор

Язык интерфейса:

Английский

Таблетка:

K'ed by TNT

Размер:

22.44 MB

visit official website
NitroFlare:
DOWNLOAD FILE